Santa Cleopatra! What is this exactly?
Hi! I'm Joveguille, the Cartoonist and author of Jordi & Oslo. If you are here, it must be either I begged you to help me out, or you are lost. If you're lost, please take a look at what I'm about: On my web, blog, twitter, facebook, tumblr, or instagram…anywhere!
If you took a peek (or mostly saw the video), you'll maybe know by now what's happening. And you'll also ask: This is in Catalan, a language I don't understand!
Behold! Don't panic. I've got you covered. I've been translating the book just for you! It will have subtitles in English, and every gag and strip on it will make sense!
Here are some examples of how it looks!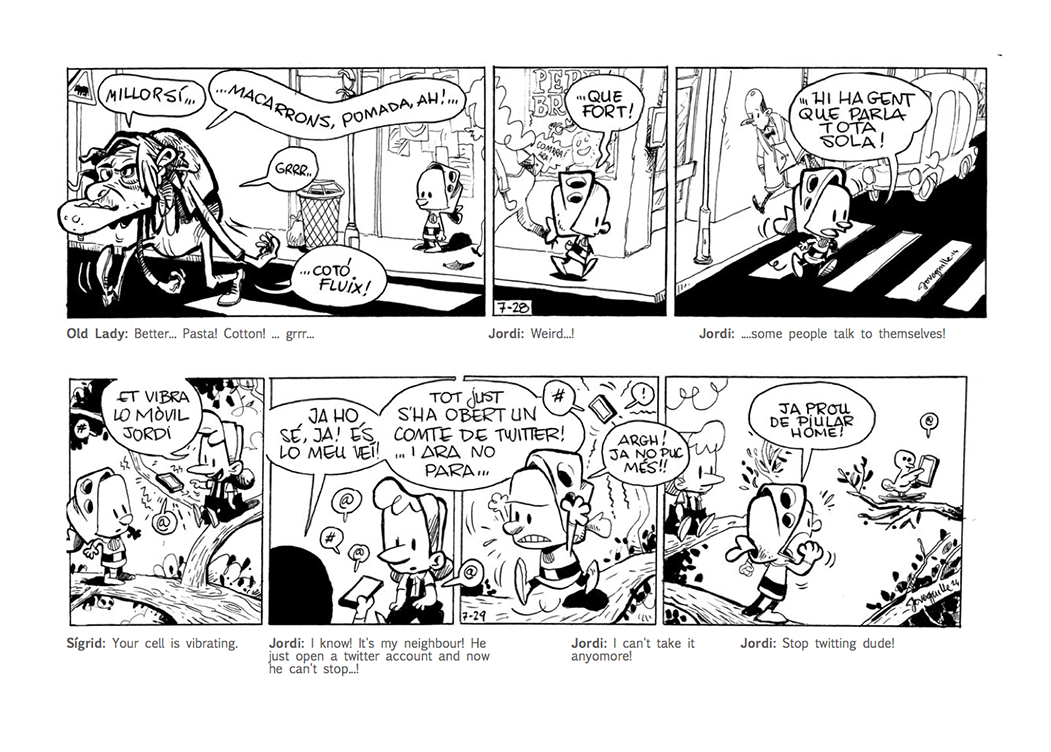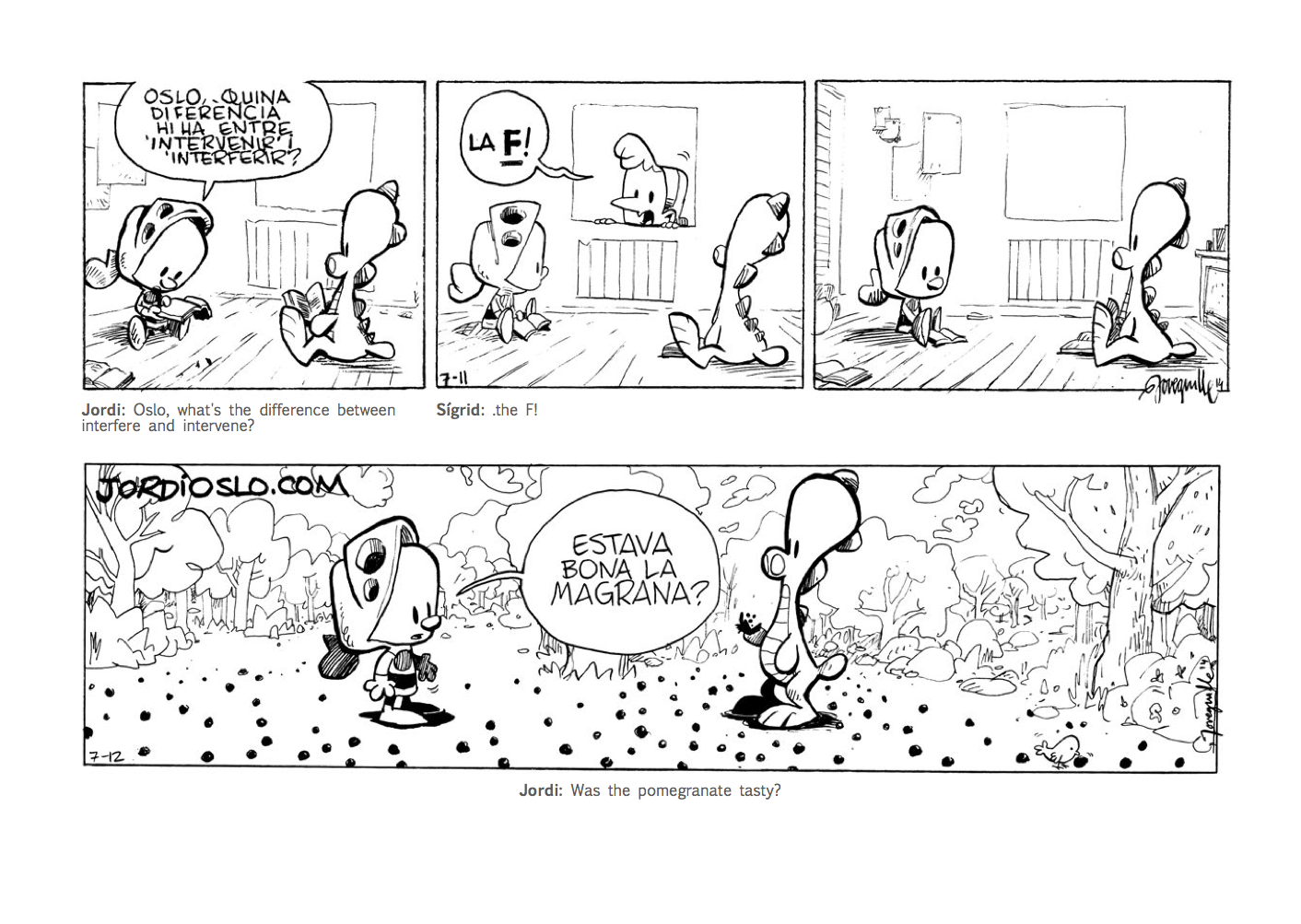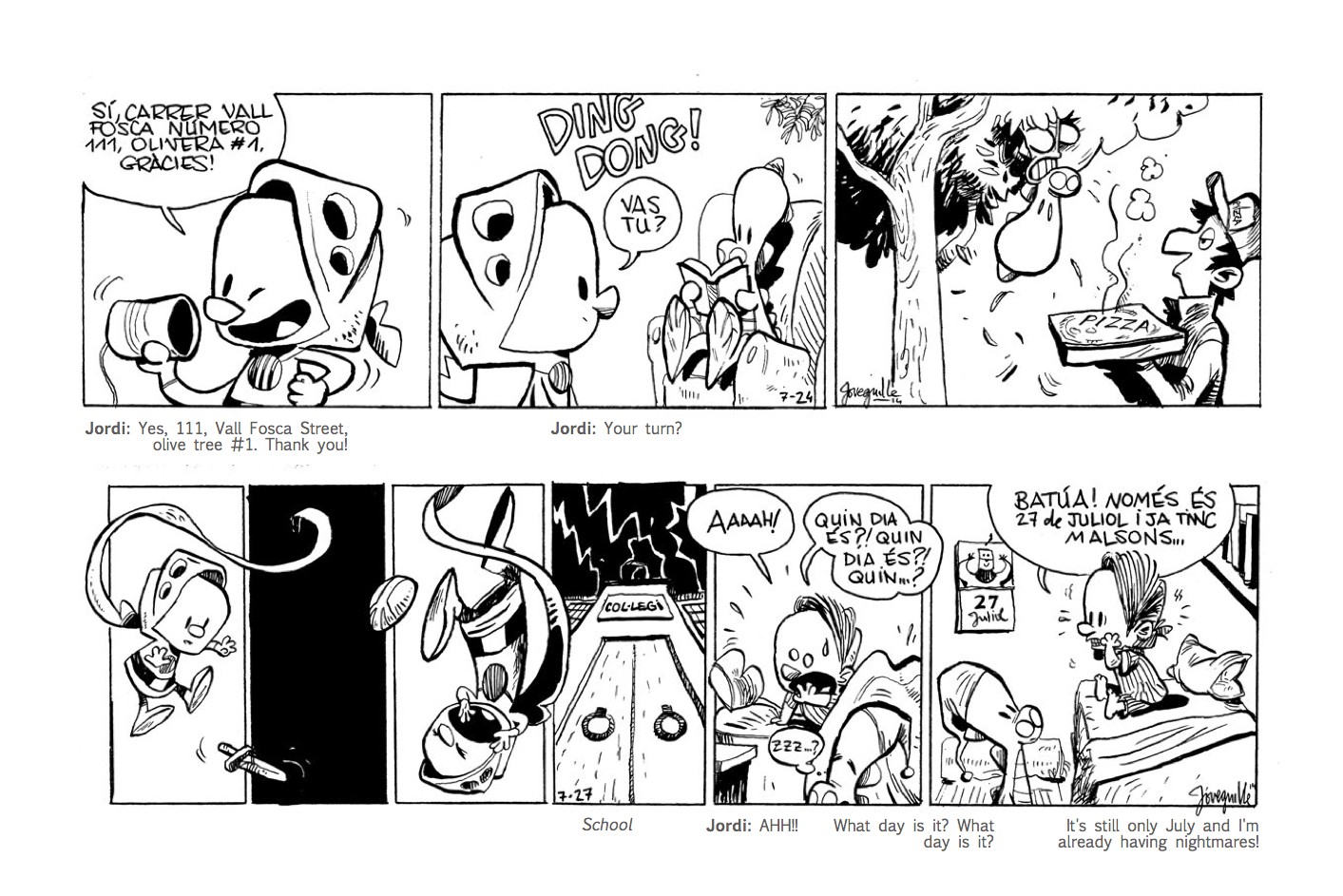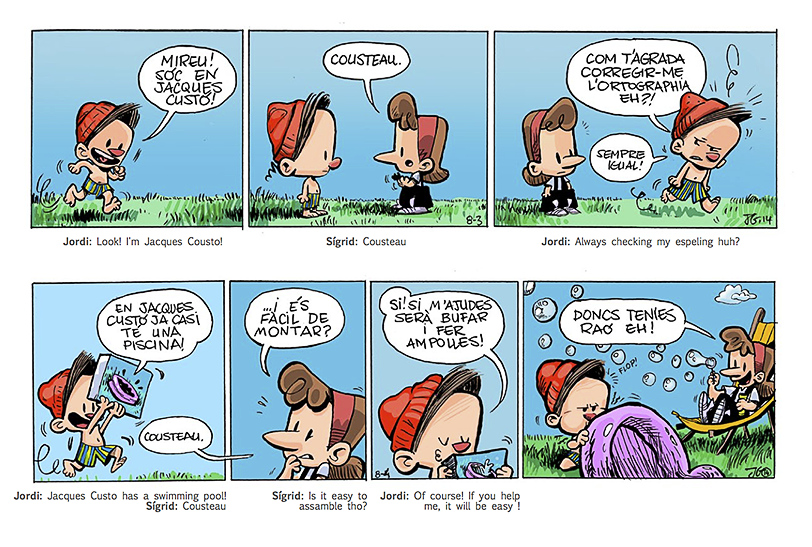 I'm very glad I get to tell you about this. It's been a trip.
I started drawing this as a daily strip in 2011, and I've been doing some as a hobbie after work. I draw them the old style, with pen, nib, ink and brush. I've only used the computer to paint them afterwards.
Now, I thought they needed a place to be. That's why I want to print this book.
The book will be 6.5" by 9.5" (17 x 24 cm) and it will be mostly in black and white with some pages on color. With your support, you'll be backing us to print 1000 copies plus the rewards.
Schedule
The Books will be printing sometime around March. You'll get your copy by the end of April. Some of the rewards could take a bit more time, since they are all hand made.
I came up with some - a lot - of rewards to thank you for your support towards Jordi, Oslo, Sígrid and me. The rewards are very unique and they will sure fit your best of dreams! They range from special signed book, t-shirts, pajamas, bags or even the original strips! Get them before they run out!
The Rewards
What you'll get for being a backer is awesome. These are some of the rewards you can call yours: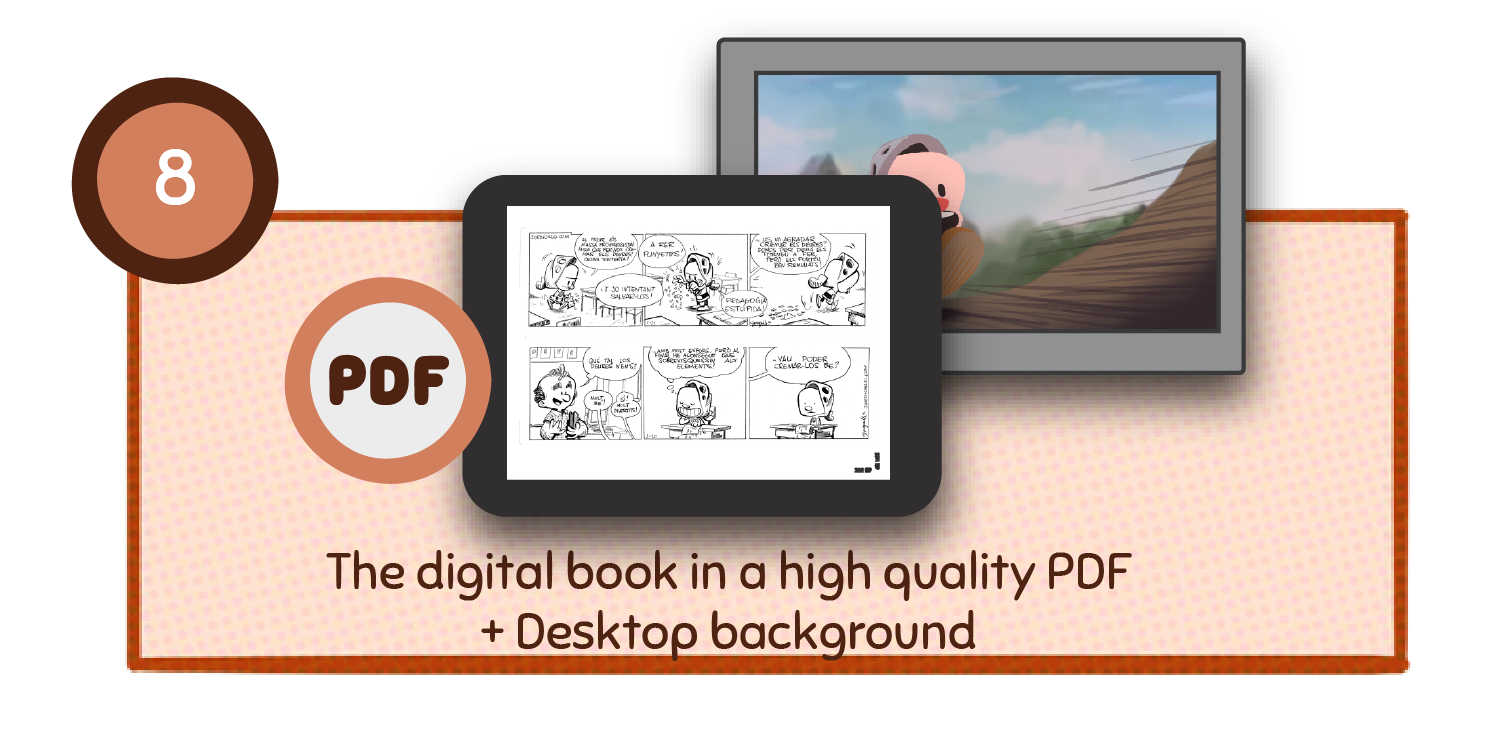 The digital book in a high quality PDF
+ Desktop background
If you're one of those allergic to paper, I've got you covered. This is all electronic, and you'll enjoy Jordi and Oslo paper-risk-free.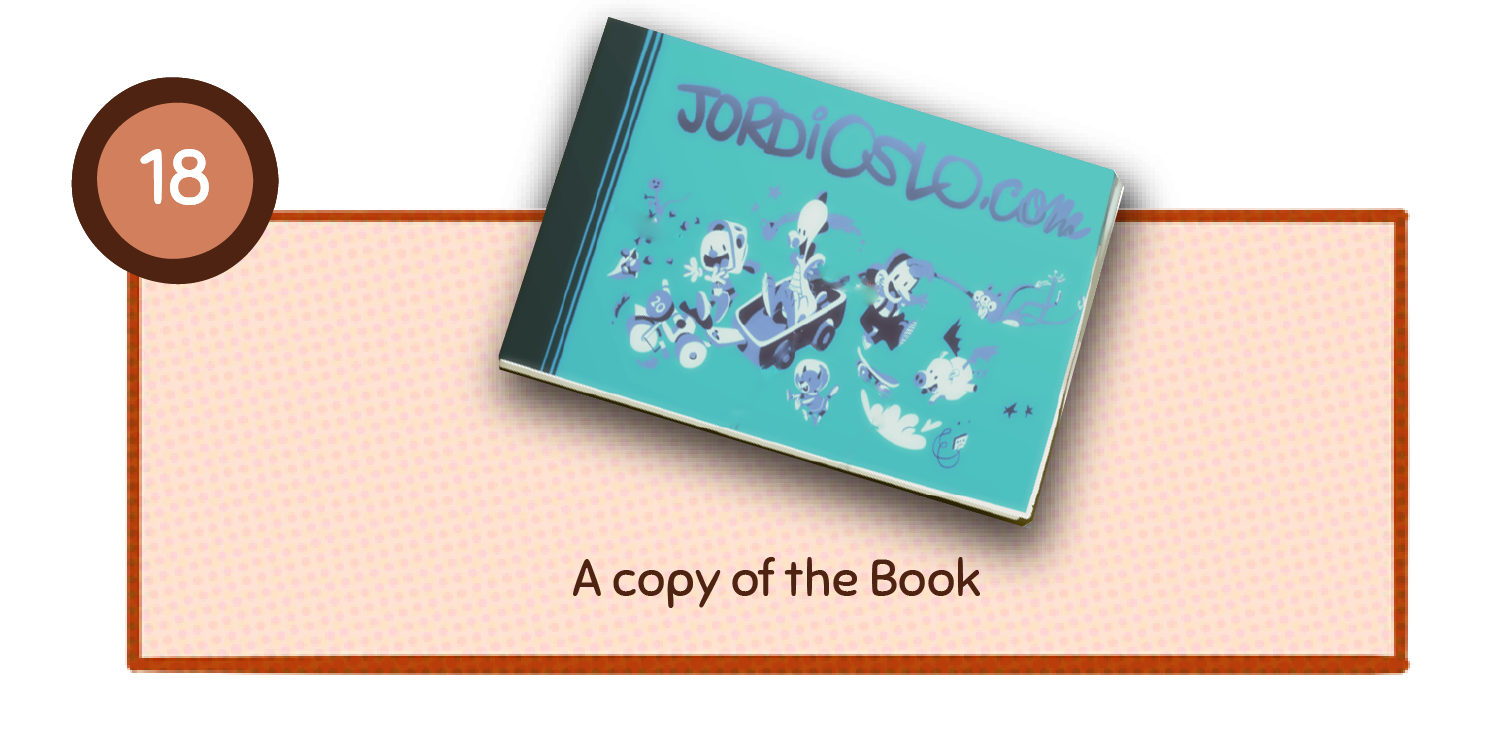 The book. It's so cute it's worth it just by itself. The art for the cover is not decided yet! Don't worry, I'll be super-cool.
(Does not include shipment, I'll give it to you or arrange to pick it from me in Lleida or San Francisco) Unless you buy more than one of this option. If you buy more than one, it includes shipment anywhere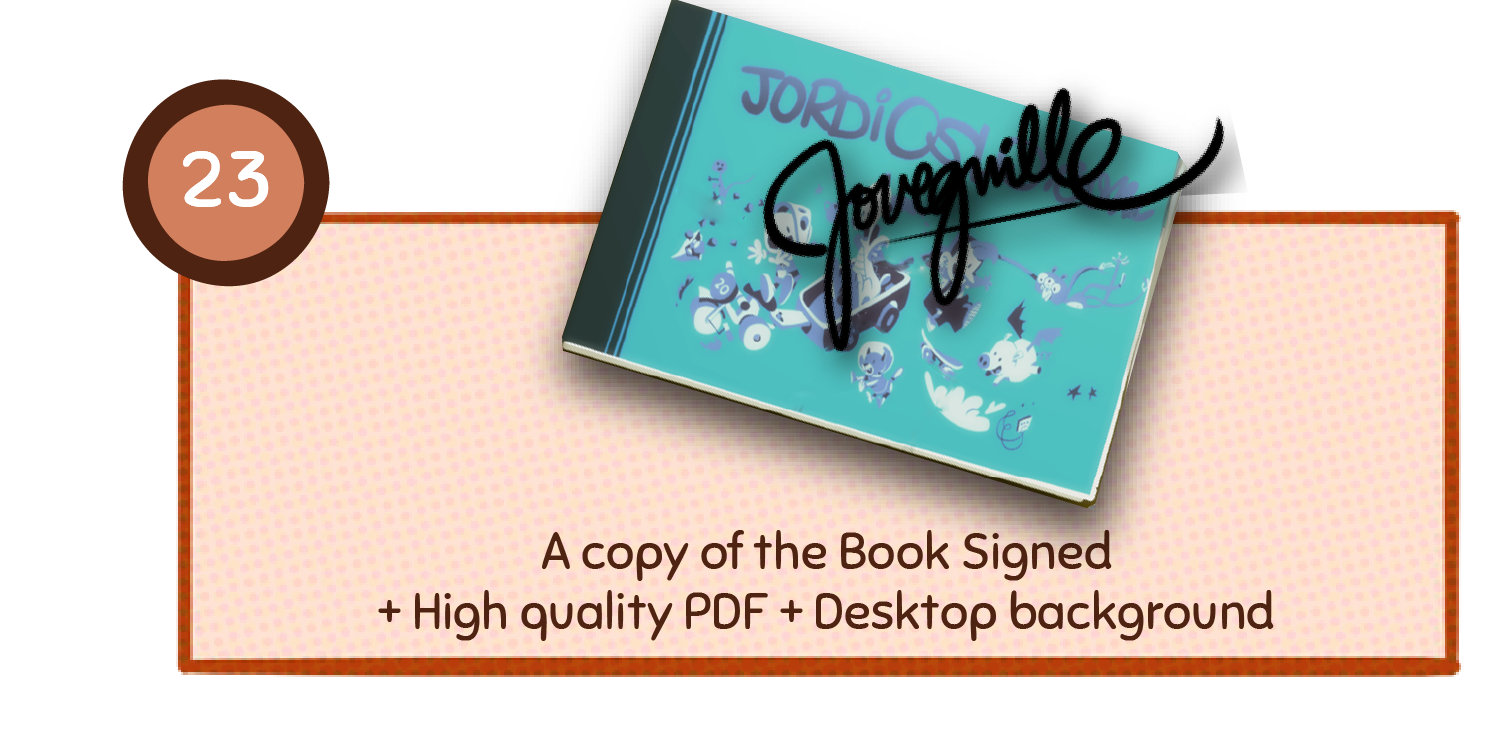 The signed book is very useful. It's my way to garantee you 100% that this is my book. There's a lot of knockoffs out there!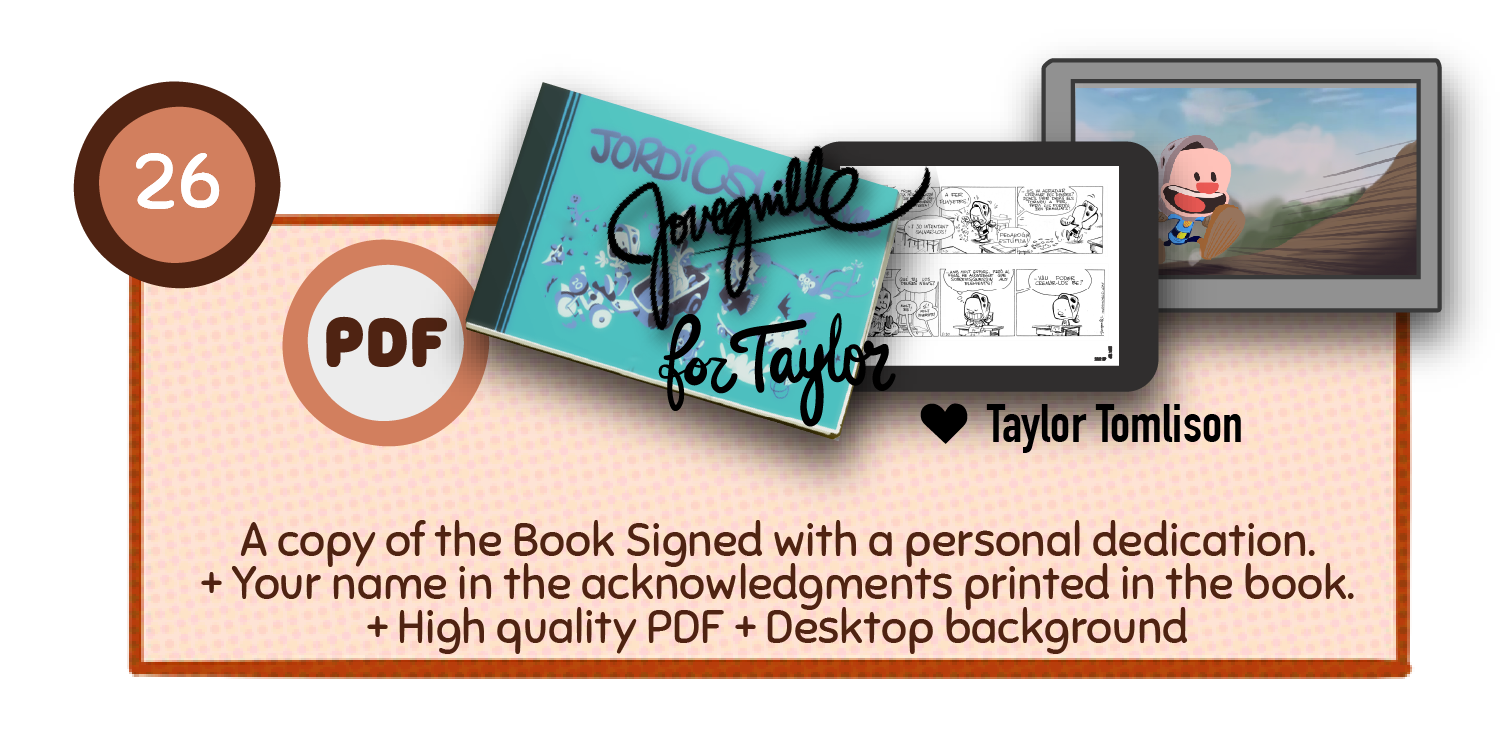 It's most important to have a book signed to you, isn't it? Specially if you have friends who don't return your books (I don't know anything about that, all my friends are super cool!)
Anyway, this will help you prevent that. Nobody will steal your book now! Plus, it will make them super jeelous!
--- From this point everything includes the shipping ---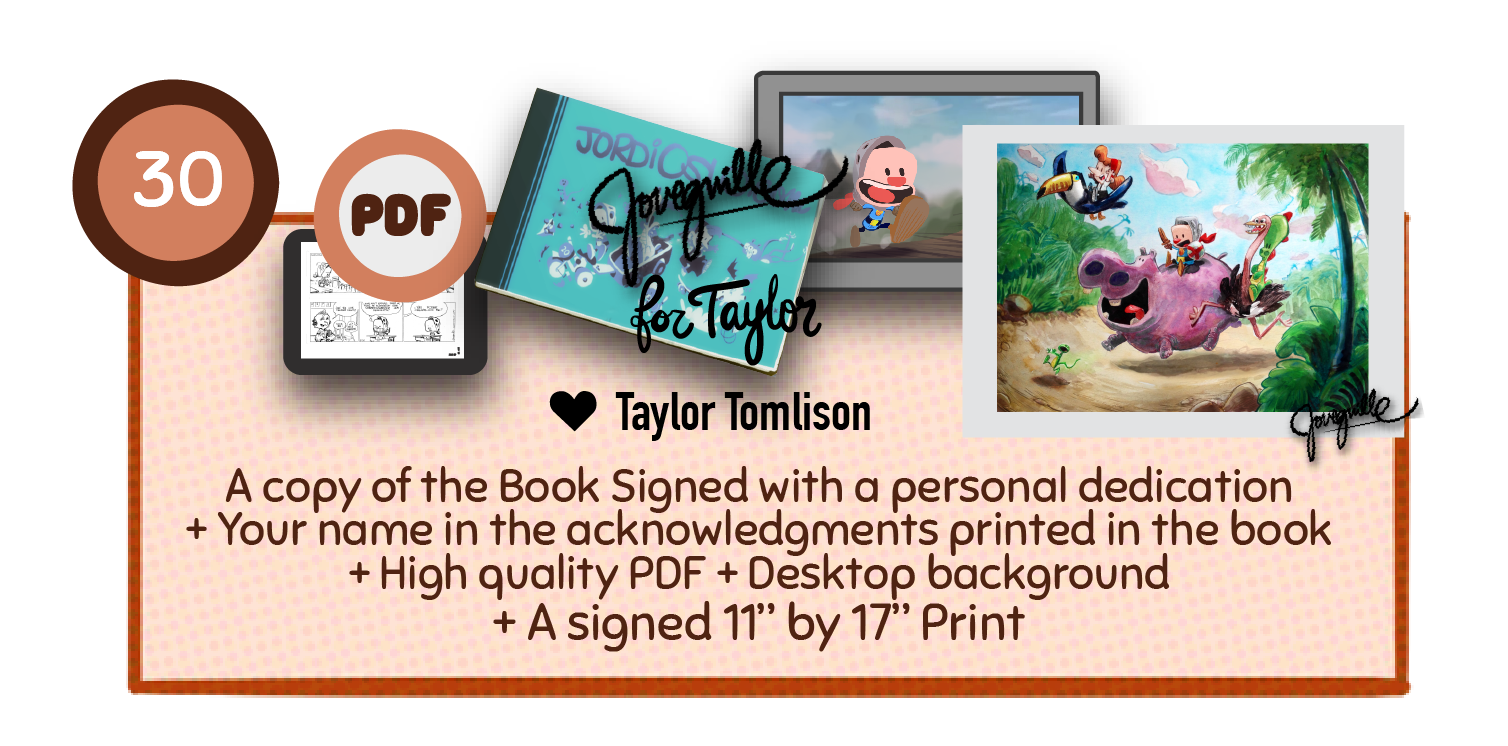 A cool poster reproduction to put on your wall. I'll sign it! I'll even kiss it! Forget about your Pink Floyd posters. Make room for Oslo.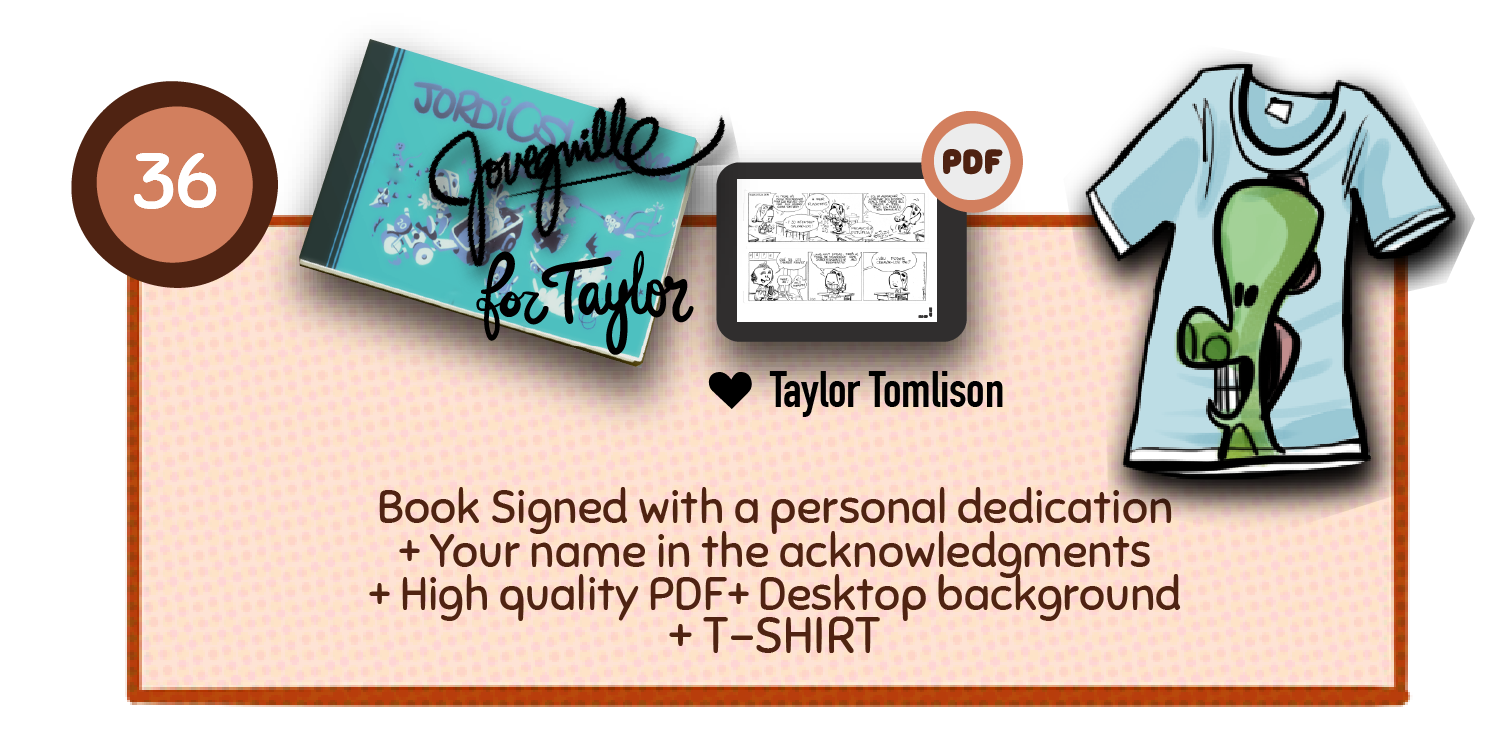 Every person we've polled confirmed JordiOslo's shirts helps you in daily basis.
Here's a picture of how Oslo looked on the shirts we've printed (ourselves) in the past. I still don't know what the new shirts will have on them, but I'm open to suggestions of what you like the most!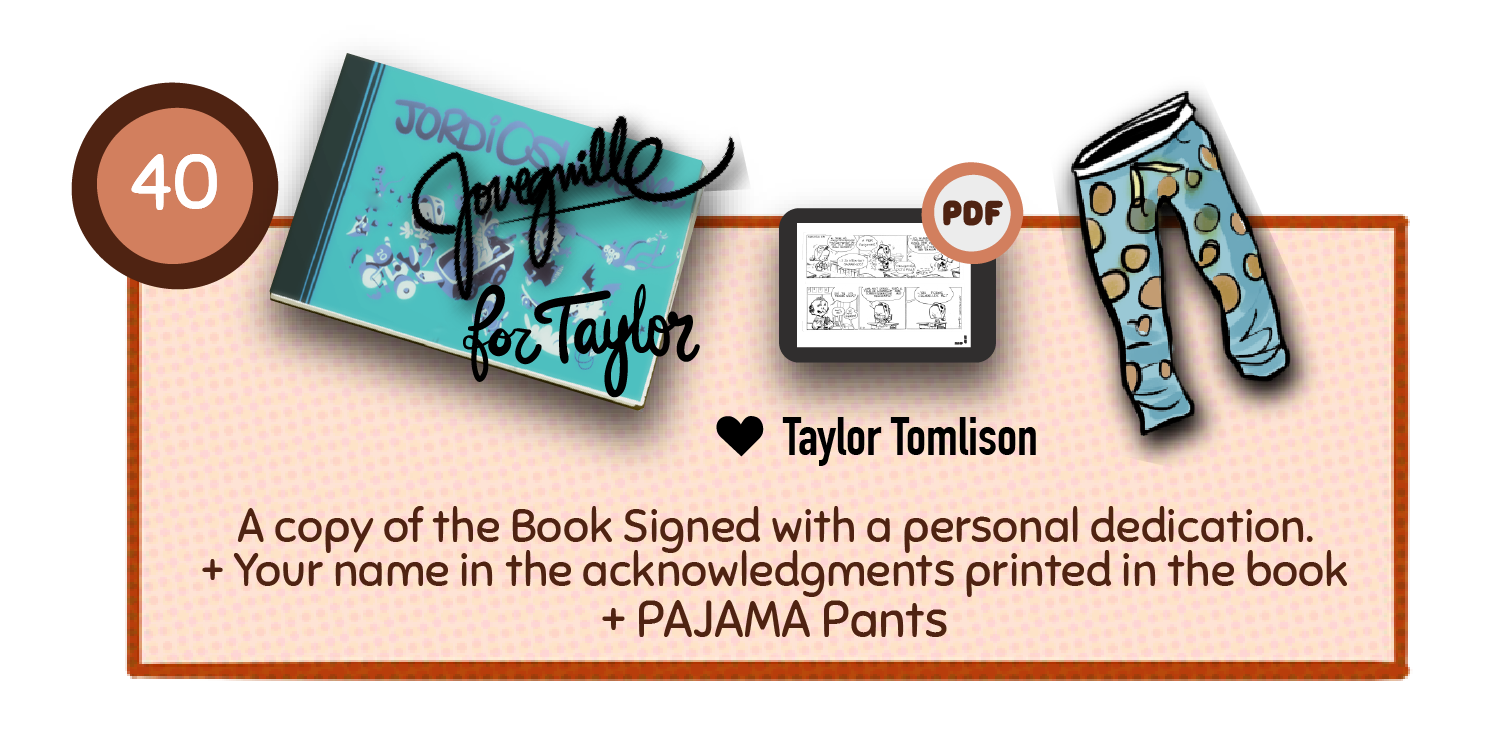 Your pajama's are missing the pants? No other pajamas ever seemed cool enough? You're welcome.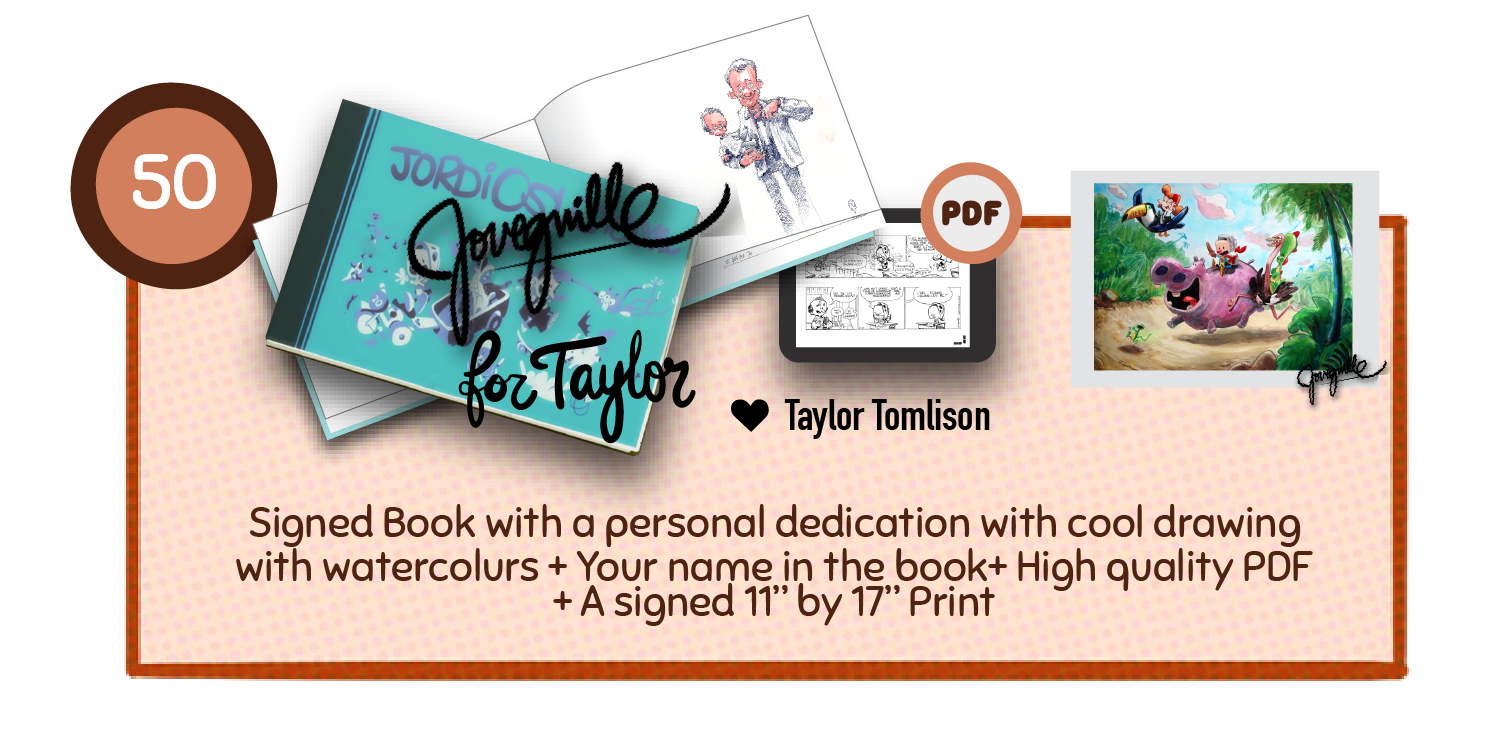 When I sign your book for you I always feel tempted of spending more time on it. I love drawing! Please give me the chance of drawing something cool on your book along my priceless signature. This will mean more for me than to you, but it will look very nice when you open the book. Plus, you'll know I'd hold it for a while. Who knows, maybe it'll still smell like me.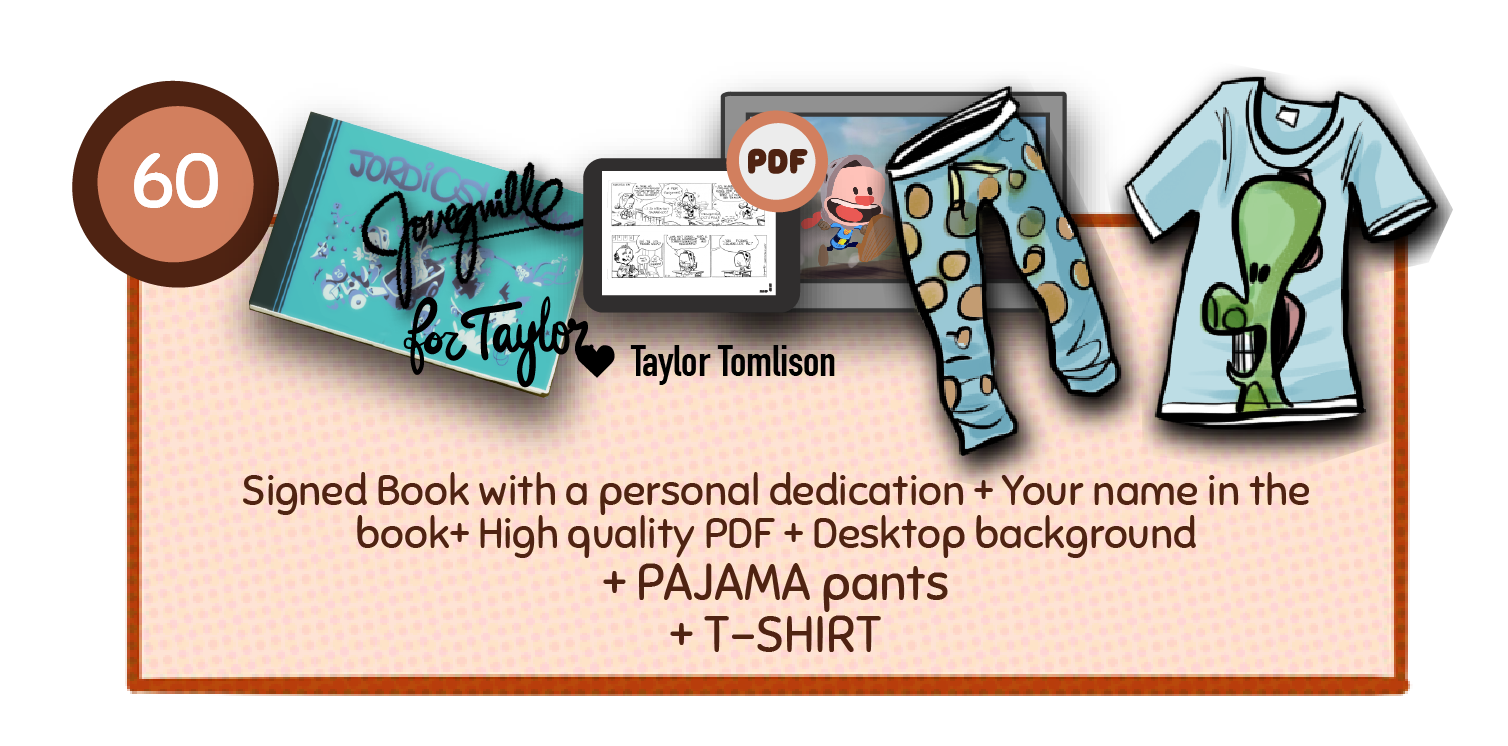 This one is for you! Nobody will suspect you hate Jordi & Oslo and you're doing this because you love me and Catalan culture.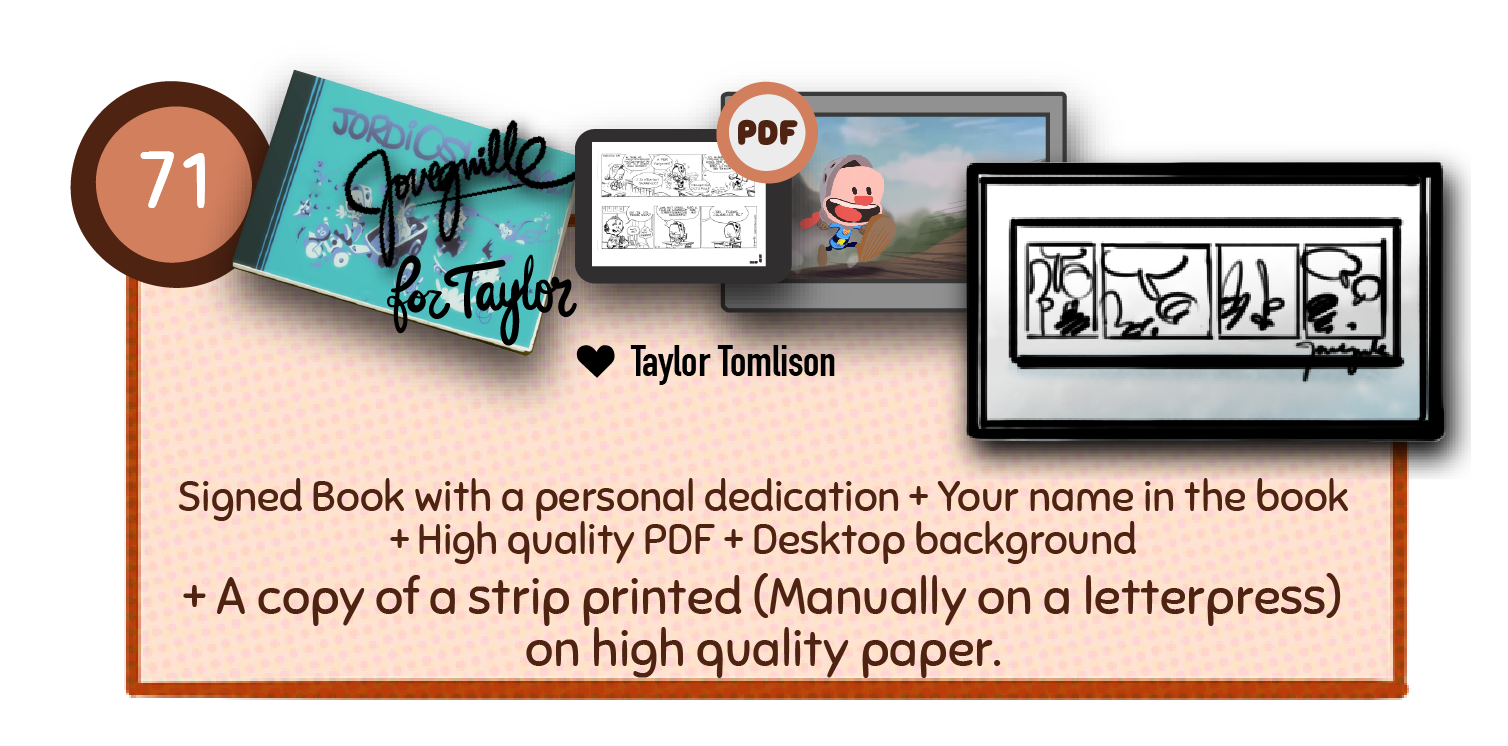 The best print-maker artist in Catalonia - JERL will help me print exclusive edition strips for you. Limited edition for this occasion. If you ever thought about becoming a cook. Do it. In fact, do everything you want in life. This fancy piece of art will help you achieve it.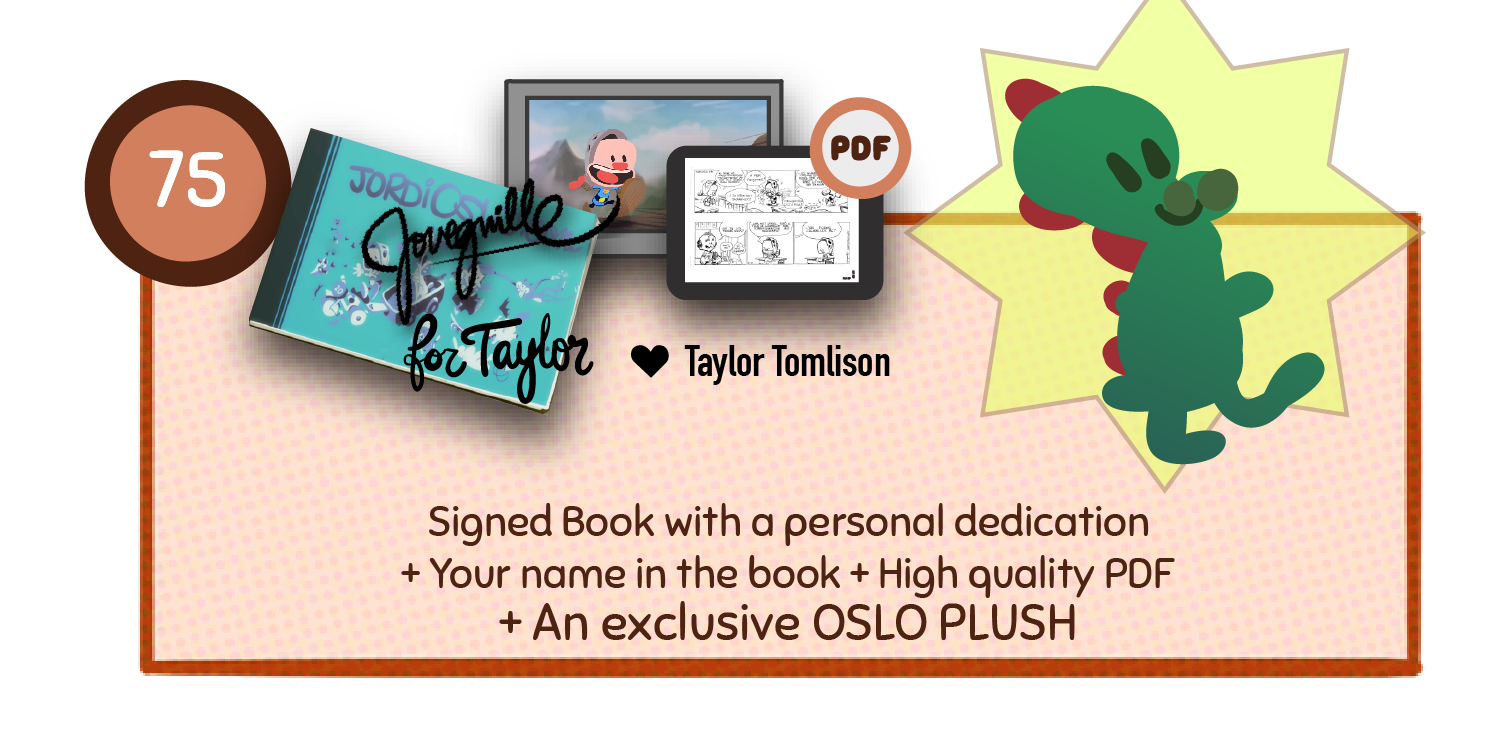 Somehow this lady who's graduating from fashion design from the AAU in SF will make a plush. Best way to sleep cozy after reading strips in bed! The idea is to make a stuffed Oslo, but i guess you can choose any character. Here's how Jordi looked stuffed: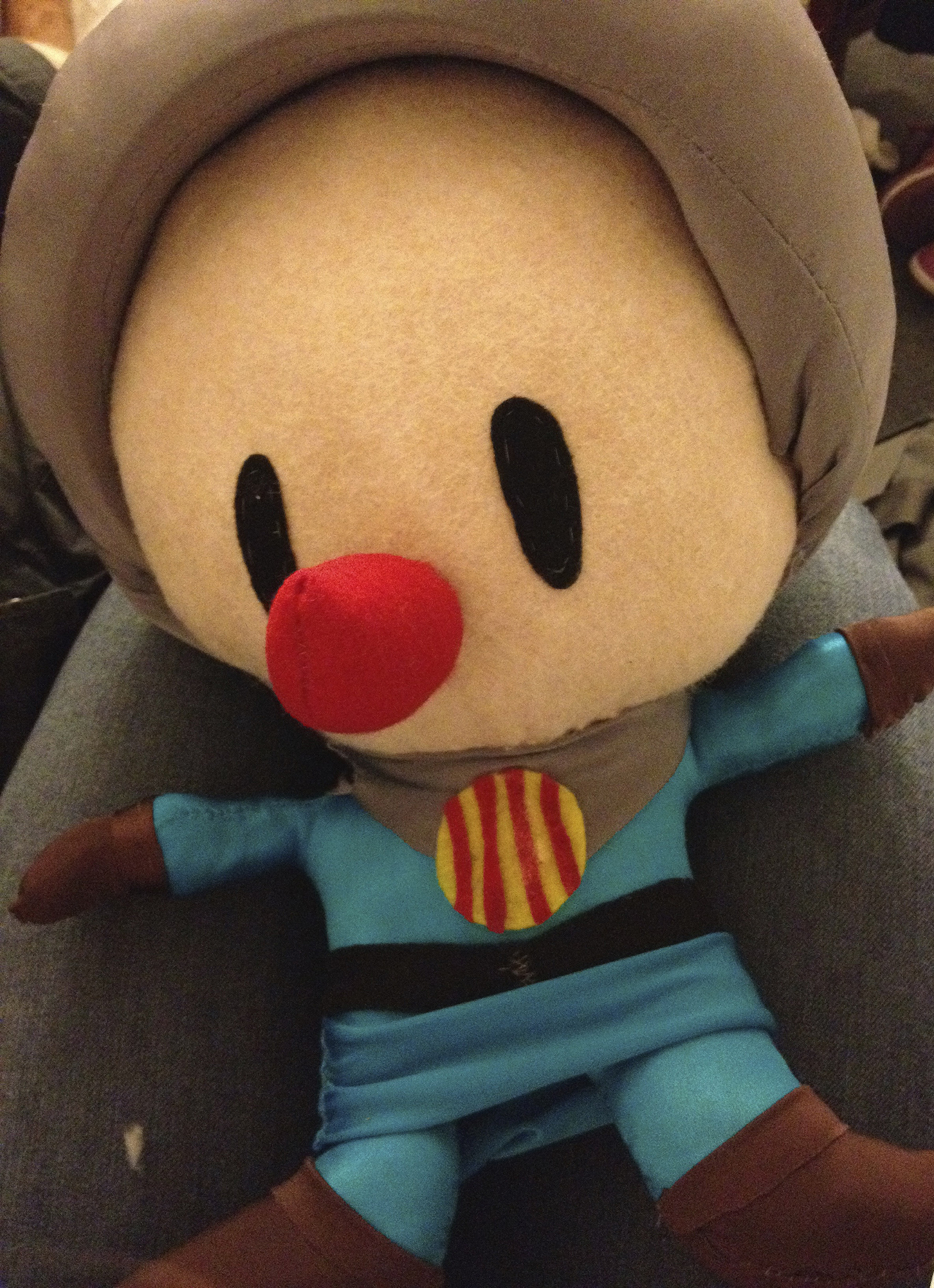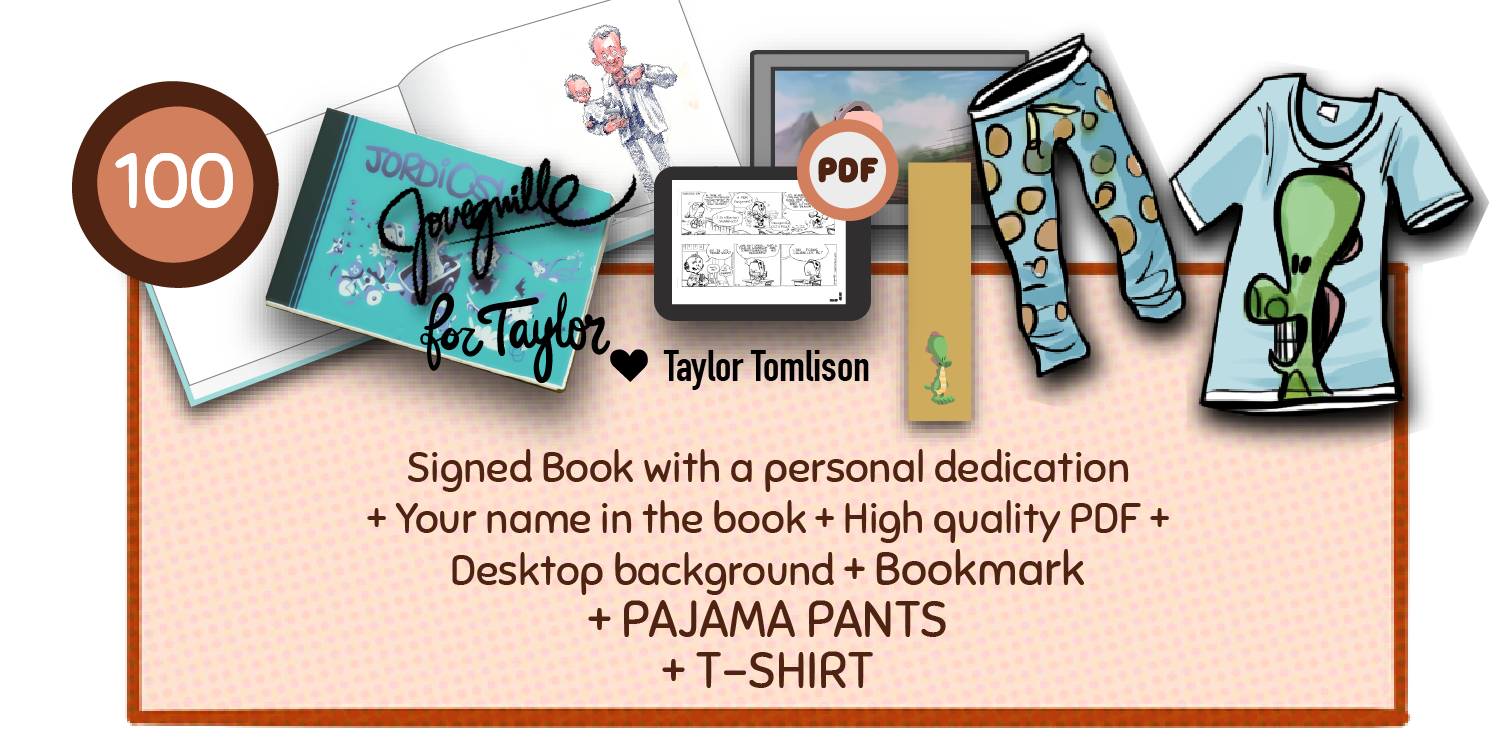 I know what you're thinking. All this stuff should be in a museum! This is way too cheap and way too awesome for just one person. Well, all I can say is you are the only one who can have it then.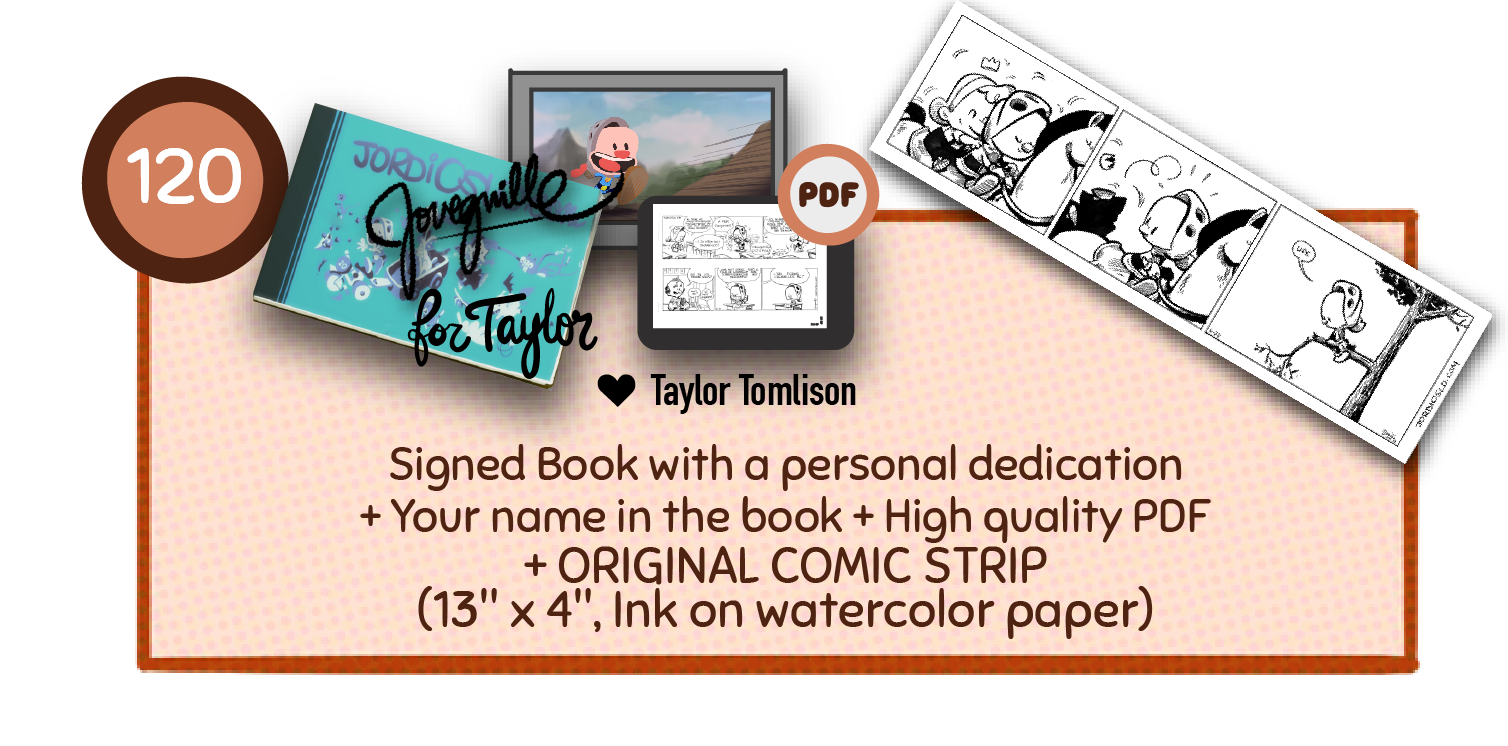 You'll be owning an original piece of me. This are like my babies, and I would only trust you to take care of them.
This is one of the comic strips: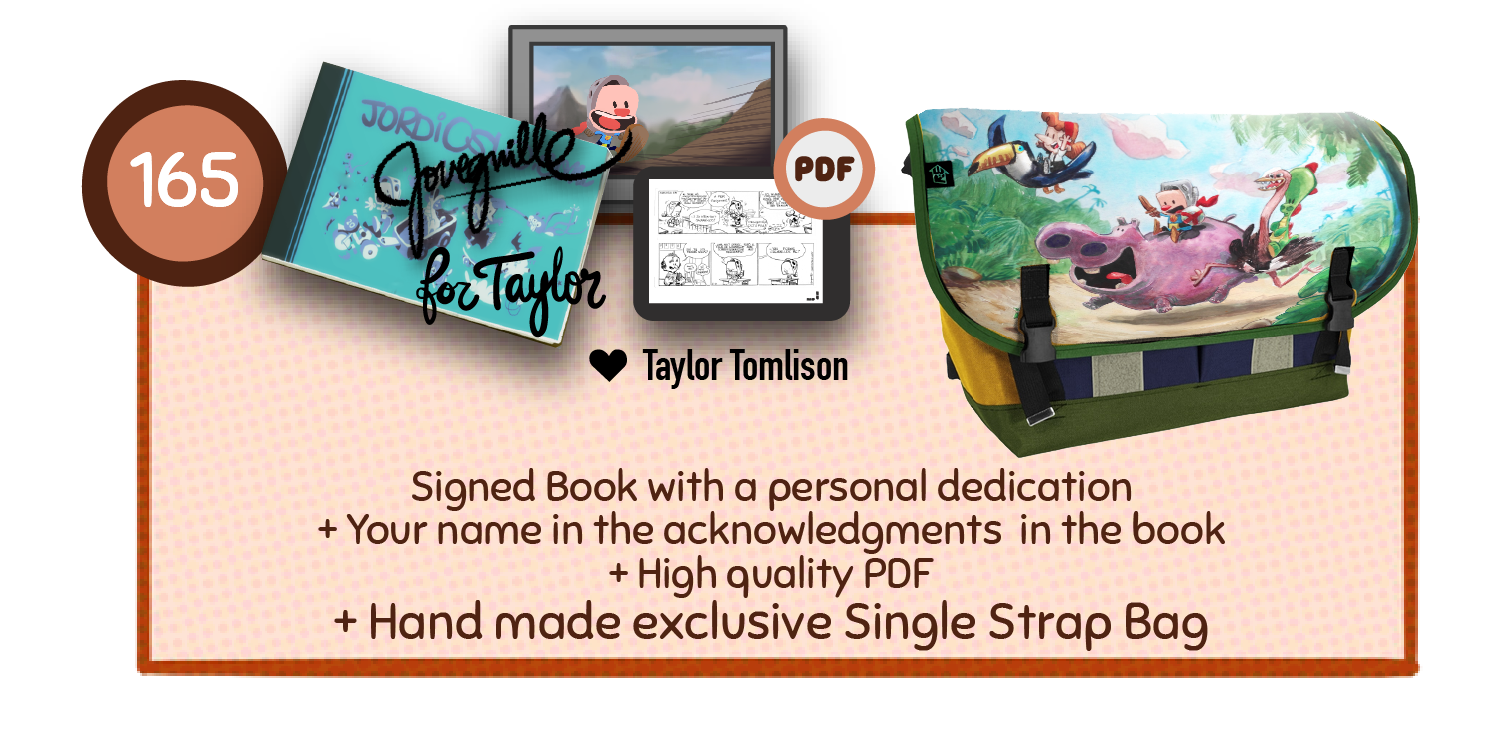 I figured you'll be needing a bag! How else would you carry all this sweet rewards I'll give you? This exclusive and unique item will be crafted just for you. Made in the bay area. Check it out. R.E.Load Bags It's a bargain.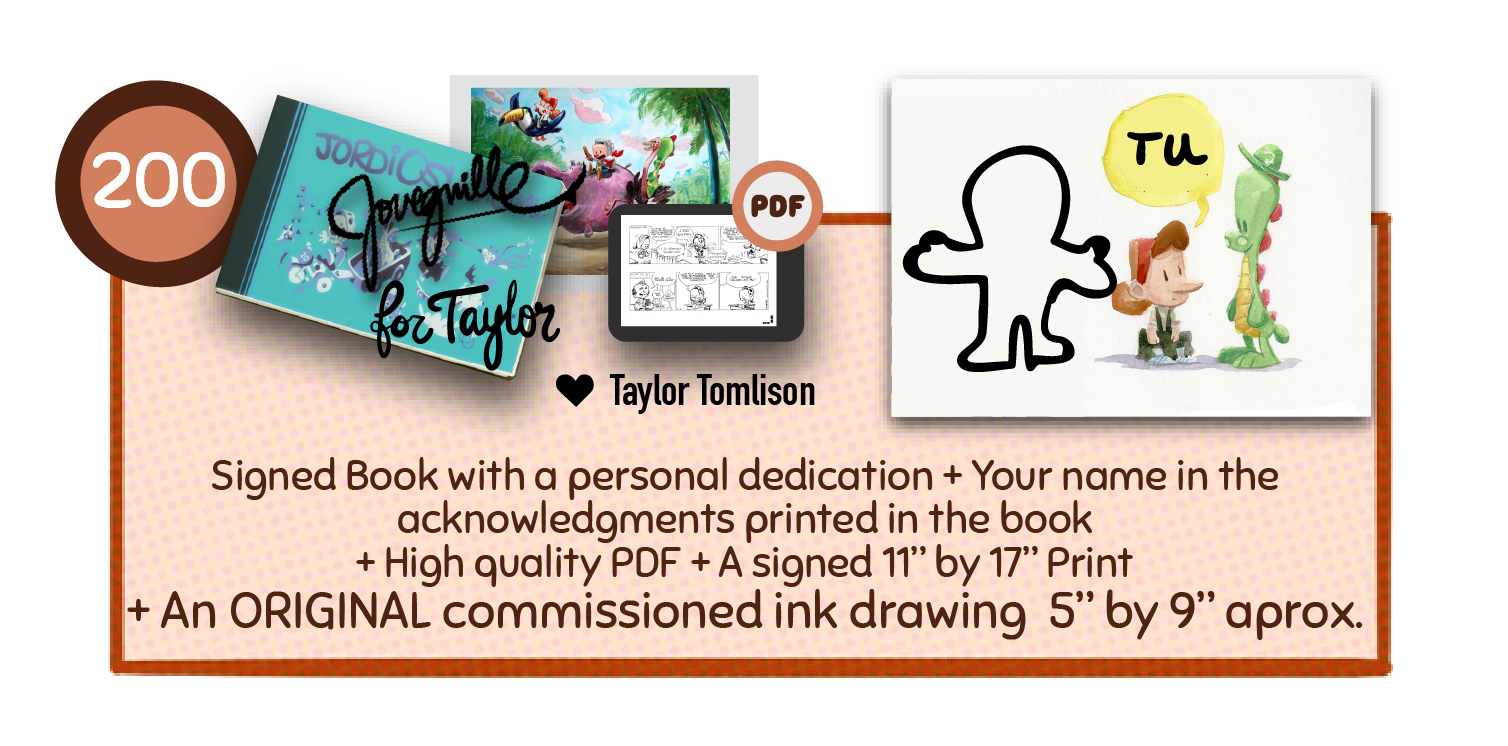 Drawing your personalized dedication on the book it never feels plenty. Let me draw you in a separate big watercolor paper. Plus, if you send me a pic of what or who you want me to draw, you've got it.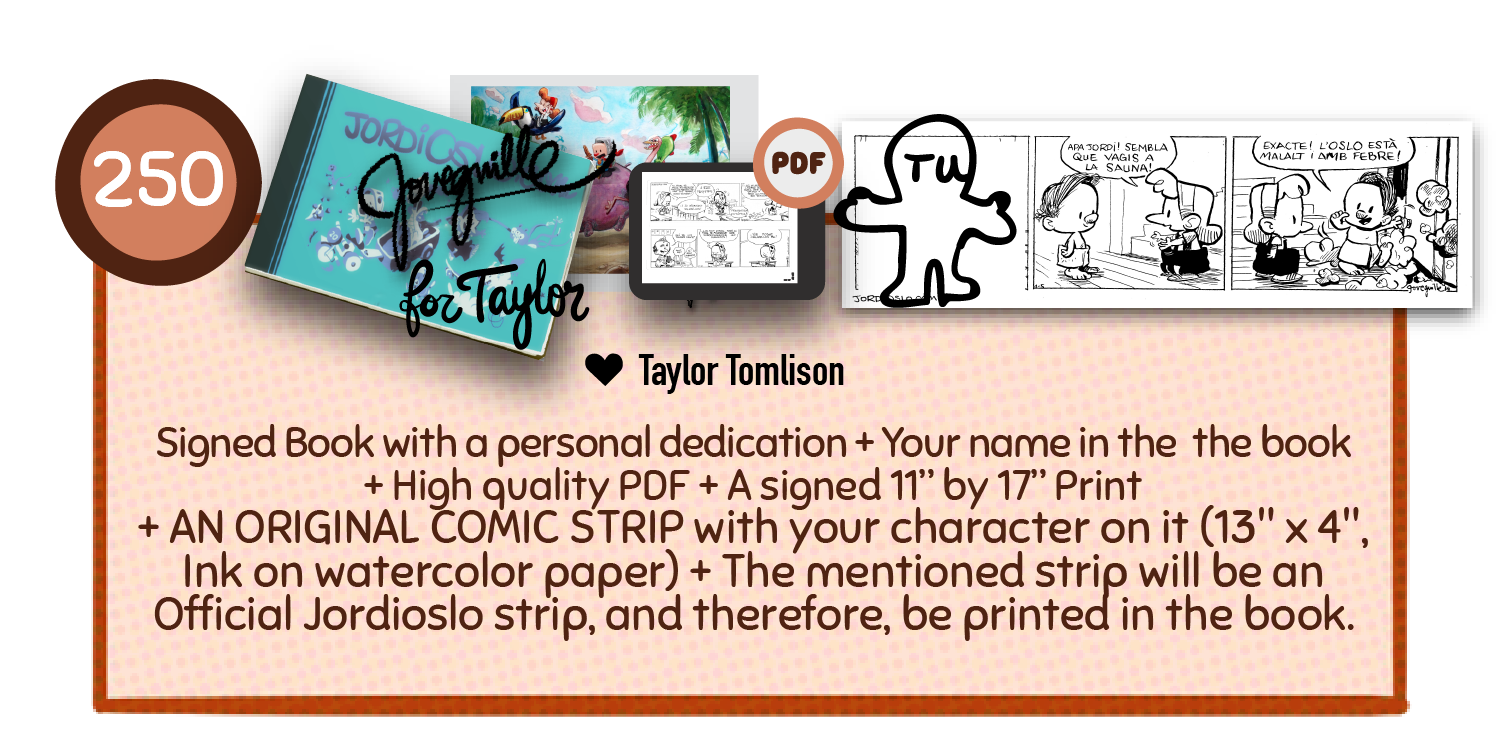 If you love this so much you want to be part of it, I can draw you as a character and have you be in one of the strips, then give it to you, so you can hang yourself being international art on your wall. Also, being a character of J&O comics doesn't mean I'll have you killed (like George R.R. Martin would), don't you worry!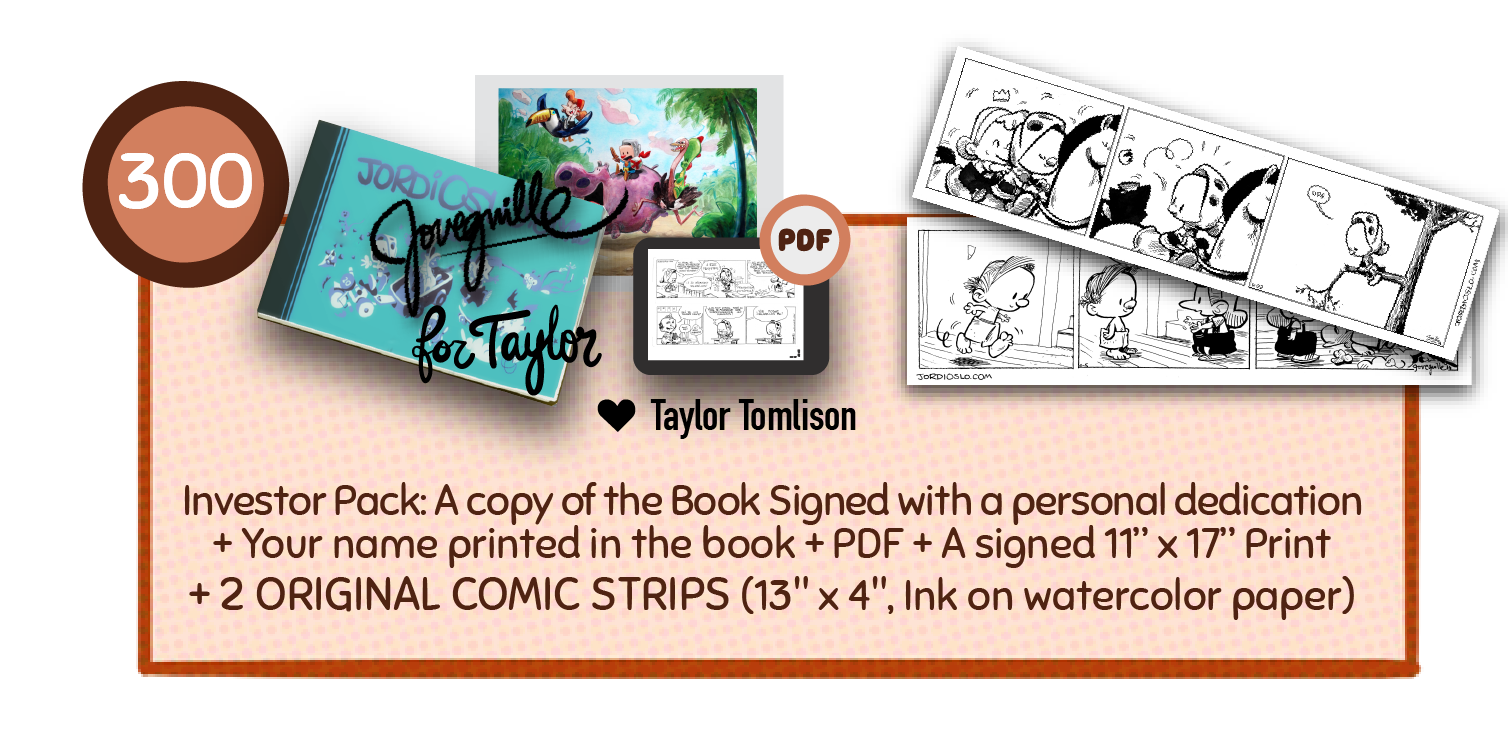 This is the best investment you can ask for. Forget about start-ups. Investing in ink drawings will save you when electricity dissapears. Trust me! Think of how cultural you'll look with original comic strips in Catalan hanging from your walls. I'ld say do it.
Super special thanks to Josh Dresner for being super cool.