INDEX
What is a sun cape?
How is your design?
How is it used?
What does the cape bring that is new?
Sustainable production
Local production
Testimonials
To what will we allocate your contribution?
The rewards
How do I choose my size?
Detailed product description
When will I receive my Zazou?
Personalized Zazou
How the project was born?
FAQ
"Plan the outdoor activities that you like, and protect your loved ones wherever you go"
Many leisure activities require exposing the skin to solar radiation. And, both for the adults and the smaller ones, this is a risk factor, since the first damages produced by the sun happen in childhood. They are irreversible damages, which can cause problems throughout adult life. That is why it is so important, from the first years, to work in education and prevention.
From Sun With Love stimulates and promotes the enjoyment of the sun with responsibility through the creation of a textile brand which manufactures garments in UPF fabric (Ultraviolet Protection Factor), combining protection, sustainability and design.
After almost three years of fabric research, consultations with dermatologists and product testing, we launch our first garment: the Zazou® sun cape.
¿What is a sun cape?
Zazou® is a supercape, and not because it is for superheroes, but because it has the superpower to protect the skin from ultraviolet rays when it needs it the most.
Being made of UPF fabric, solar radiation cannot pass through it. Therefore, it blocks 99% of the UVA and UVB sun rays, both dry and wet. Its high-tech fabric, exempt of any chemical treatments, has been tested and certified in the laboratory by the strictest protocol regarding sun protection by the AATCC (American Association of Textile Chemists and Colorists). The result is an intrinsic natural protection, and a labeling category of UPF 50+ "Excellent UV protection".
What is your design like?
Zazou® is a unique, different and original garment. It is fun, comfortable, versatile, ecological and patented as a utility model.
The cape has cuffs-mittens, which allow the garment to be fixed on the body and shoulders, and permit absolute freedom of movement, while protecting against the sun rays on the trunk, neckline, shoulders, arms and hands (parts of the body very susceptible to premature aging of the skin). The children's cape also has a removable hood. It is fresh, light, extra soft and does not heat. You will want to wear it all the time!
How is it used?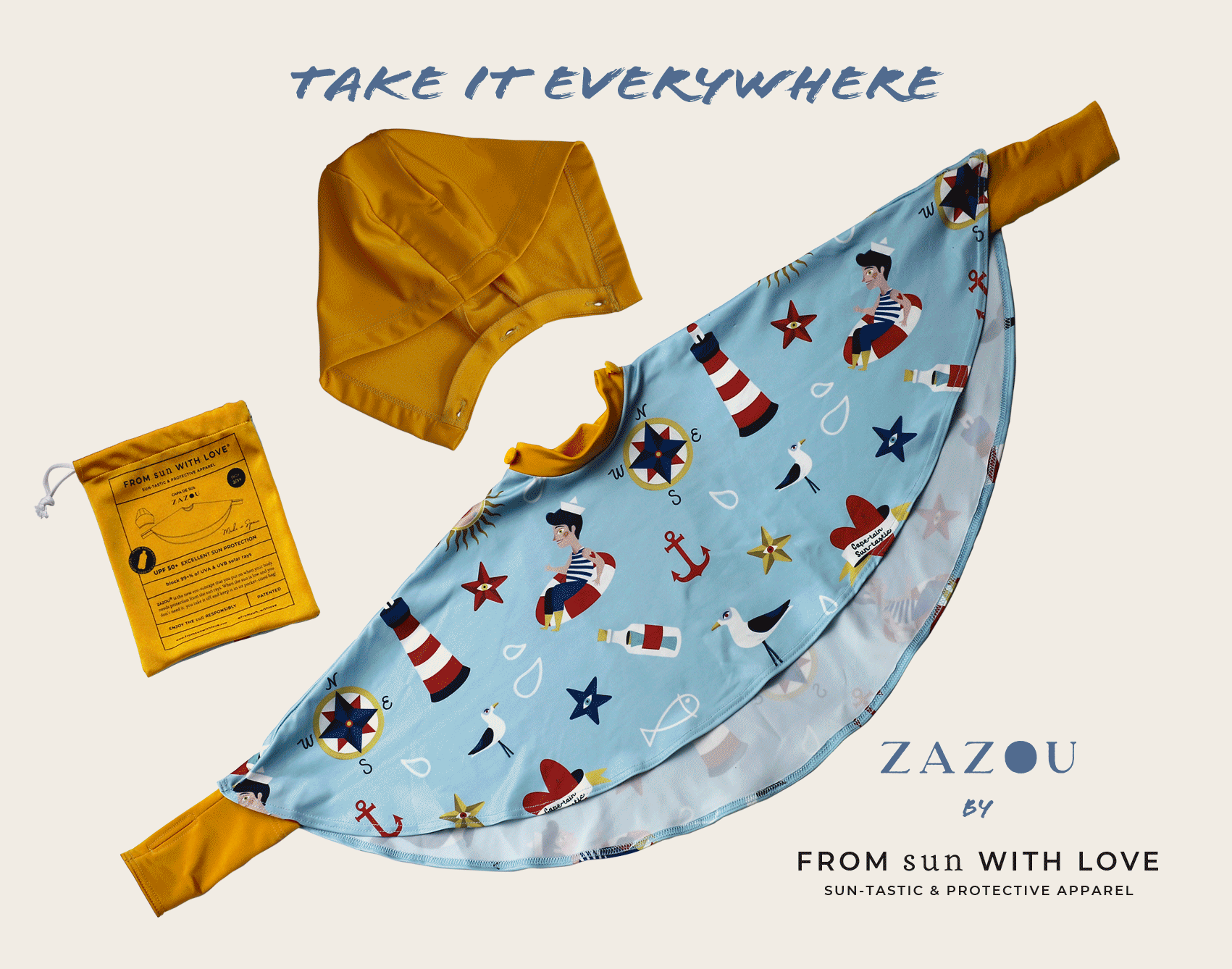 From Sun With Love accompanies you on your adventure. You take care of choosing the place.
It is designed to be used in the central hours of the day, where the World Health Organization's recommendations are to cover from the ultraviolet radiation. You can put it on and take it off as many times as you want, roll it up and store it in its own bag. It will fit inside the bag and you can take it everywhere. The fabric does not crumple and the cape will be in perfect condition to put it on again when you want it.
Zazou® has different patterns, for women, children and teenagers (who burn themselves several times in a summer because they don't want to apply sunscreen...)
What does the cape bring that is new?
A new effective sunscreen. It is designed to be used alone or in combination with sunscreen (for body parts that you do not cover with the cape). In this way, you can alternate and decrease the applications of sunscreen.
In 90% of cases, sunscreen is not applied correctly. It should be spread in much higher quantity than what is usually done, and applying it throughout the day can be exhausting (especially when you have to chase young children). On the other hand, if enough is applied, it is an expensive product, since consumption is substantial and, in addition, recent news warn that certain components can be very toxic to marine life. For example, last summer the use of sunscreen on beaches in Hawaii was banned. You can find more information here:
The cape is also an ideal alternative to water tee-shirts. You will be able to reduce its use to the moments of bathing, since the kids get tired, it squeezes them, rubs them and bothers them once worn for a long time.
You can use the cape in all places: on the beach (walking, playing on the shore, beach tennis, etc.), at the beach bar, in the street, in the countryside, sightseeing, in the park, at the terrace of a restaurant... or if you are cold! When you take it off, keep it in its little bag, and in your bag!
Remember: the World Health Organization warns that we should not stay in the sun unprotected from 12am to 4pm, as these rays cause irreparable damage, possible diseases and premature aging of the skin.
Sustainable production
FSWL is born as a company committed to the environment that knows the effects of the textile industry in the short and long term. We believe that it is possible to produce and consume in a different way, and we want to contribute to make it a reality.
That's why we developed a new sustainable textile product that respects the environment
In production, we use two of the most advanced recycled fibers in the market. The fabric of the cape is manufactured by recycling waste such as plastic bottles and converting them into a fiber to obtain a high quality fabric. As for the fabric of the hood and cuffs, it comes from recycled fishing nets and other waste.
Plastic has become a global social and environmental problem: 4.9 billion tons are abandoned in nature or deposited in landfills.
The manufacture of each kg of fabric made from plastic bottles contributes to the environment with:
• 62% less energy used,
• 99% less water used,
• Up to 35% less waste created,
• more than 20% less CO2 emitted.
Recycled polyester removes crude oil, refinery and the chemical extraction stages. Instead, the plastic bottles are collected, washed, separated, chopped, ground, melted and reformulated into a chip that is then melted and extruded into a filament for use in the spinning and weaving process.
Local production
The entire production chain takes place in Madrid: from pattern making to clothing, serigraphy and trimmings. All created by companies and people with sustainable businesses and decent working conditions.
With your contribution, you help to build a small company whose mission is to create the best products for you, respectful with the environment and socially responsible, educate about health and inspire to work for a sustainable future.
If you want to know more about our fibers, do not miss these videos:
What if?
Turns waste problem into fashion
In addition to being original in its design, the cape has prints made by Spanish illustrators. And FSWL aims to work with them also for the creation of prints and future collections.
Testimonials
During the summer of 2018 several prototypes were tested on women and girls, and they loved them! These are their testimonies:
"The design and construction are mother-proof: sleeveless and not fitted. Bravo! I see the cape as an investment: you save on races, arguments, cries and cream cans."
Marta, Ariana's mother, on holiday in Huelva.
"Zazou is comfortable to put on, comfortable to wear, has an ideal pattern, is flattering ... I've even used it to paddle surf. I did not take it off! I had it on since I got up until I went to bed."
Olga, on holiday in Menorca.
"My younger daughter let me put on and remove the Zazou cape without any problem. And there has not been any redness on his skin."
Sara, Rita's mom, on holiday in the Canary Islands.
"I used it mostly between 1:00 pm and 3:00 pm. It's very comfortable to walk, to ride a bike, and I've even snorkelled with it! ".
Noemi, on holiday in Almería.*
To what will we allocate your contribution?
The contributions will be destined to the production of 120 units. These costs amount to €8,547 broken down as follows:
The rewards
There are only 120 units ready! Reserve your Zazou to enjoy the sun this summer.
(The shop packs do not draw units from the first 120)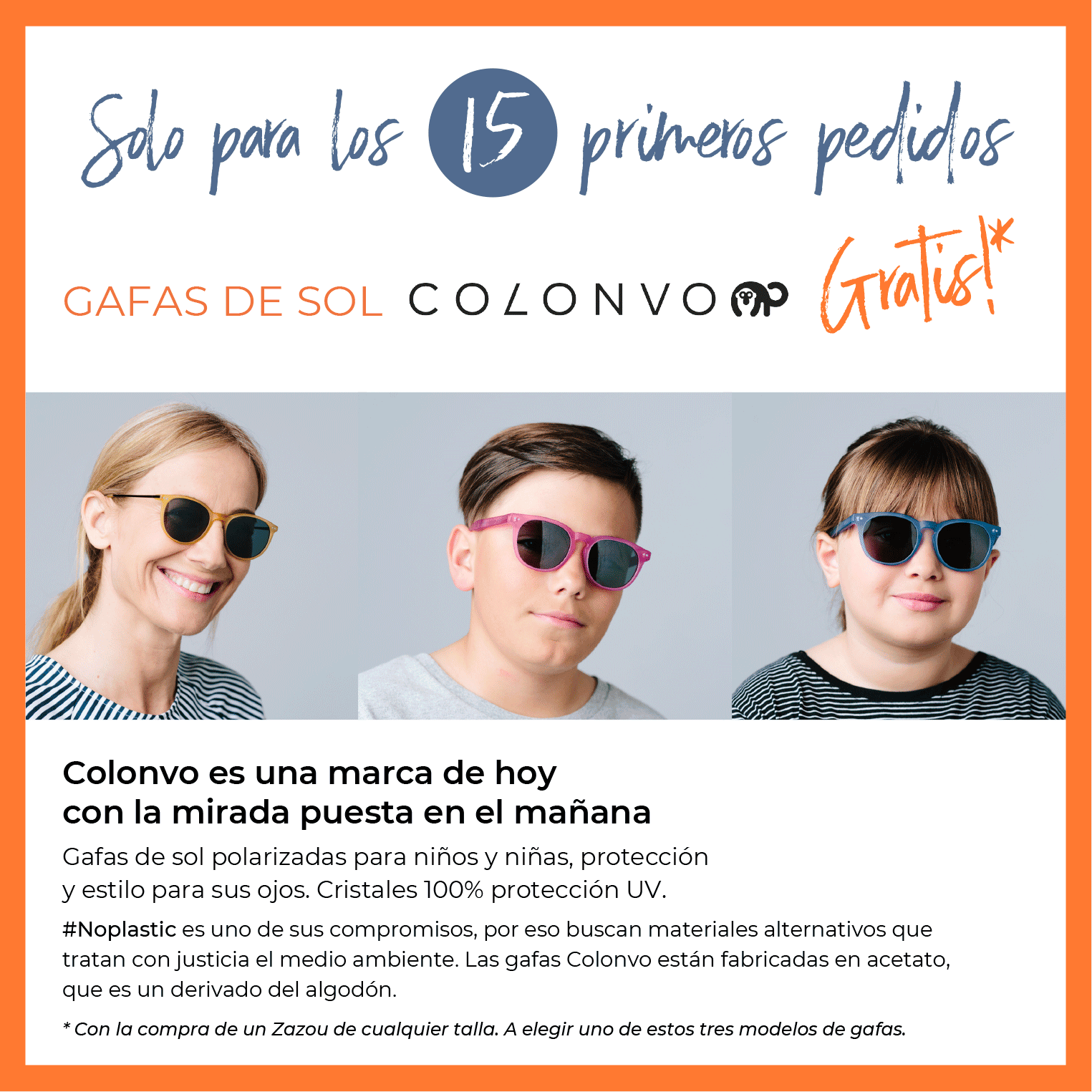 After the end of the campaign, we will contact each of the first 15 customers to ask them which model of sunglasses they desire.
How do I choose my size?
Measure your sleeve + shoulder length (from neck to wrist).
The design of the cape is short in front (more or less at the height of the navel). It is longer on the back.
If you are undecided between two sizes, choose the largest one.
Detailed product description
Sun cape made of an extra soft fabric certified "Excellent UV protection UPF 50+" and Oeko-Tex® environment-friendly textiles.
Beautiful exclusive prints.
Lightweight design and comfortable to wear, ideal to protect children at any time of the day and at any place.
It has a removable hood with 3 buttons and cuffs-mittens for the hands.
It comes in its practical transport bag, to keep it when you take it off. The bag has the same print as the cape, and includes a printing with the instructions for the use of the garment.
*Composition:
Coat: 87% recycled polyester 13% elastane. Fabric from recycled bottles.
Hood and cuffs: 80% polyamide 20% elastane. From recycled materials, such as fishing nets.
When will I receive my Zazou?
We already have the production going!
The first 120 orders will be delivered by June 25.
The rest of units will arrive on July 25 (in the unfortunate event that a delay from our suppliers oblige us to deliver the units in August, we will offer you the possibility of canceling your order and receiving a refund, if you wish, or wait a little longer to receive your Zazou).
Personalized Zazou
At the end of the campaign we will contact you. You must provide an original in high resolution: it can be a pattern (repeat tile) or a complete image (in that case it should be the size of the garment).
How was born the project?
From Sun with Love was born from my concern for the protection from solar radiation and my desire to enjoy the outdoors and take care of the planet. I am Eva, a designer by profession, and a lover of outdoor activities.
I was born and grew up in the 70s, when it was usual to spend long hours on the beach, under the August sun, without any protection. Until, one Summer, an alert showed on my skin: I began to suffer a very strong solar allergy.
From my lifelong experience, trying to protect myself from radiation in the middle of the day, and without finding the right solution, this project was born. My purpose? Defend responsible enjoyment of the sun and outdoor activities. I want you to find in "From Sun With Love" an ally that combines design and protection.
But to start this project, I need your help. I really believe that, with the purchase of a Zazou, you are doing something very big for you, for your skin and for your planet. So I suggest that you accompany FSWL in this mission: help educate in health from an early age, and contribute to clean and take care of the planet.
FAQ
What is a UPF fabric?
UPF stands for Ultraviolet Protection Factor. It indicates what fraction of the sun's ultraviolet rays can penetrate the tissue. The higher the UPF, the greater the protection. Most tissues allow UV rays to pass through and impact the skin, damaging it.
Does protection wear away with washing or use?
No. The UPF protection in this fabric is intrinsic to the way it is woven, it will not wear out with use or with washes. Unless they make a hole in the garment the UV rays will not pass.
Does the fabric heat?
No. The fabric is cool and extraordinarily soft. And the design of the cape is short to allow the entry of air to the body. When flying, the trunk remains in shadow creating an umbrella effect.
Can I stop using sunscreen?
No. Clothing is the most effective form of sun protection. It is our first line of defense against harmful ultraviolet rays. The body parts covered by the garment do not need cream. But areas of the body that are exposed to the sun (e.g. legs) do need protection with sunscreen which should be repeated every two hours.
Can the cape get wet?
Yes. We discourage bathing with it because it is a flying garment and can impede movements, but it can get wet and dries quickly.
+ Info